Terracotta - NVIDIA GPU Miner (GUI)
Terracotta is a GPU miner with an easy commission (0.3%). It has an easy to use graphical user interface and command line interface. Terracotta support for Windows. Currently only NVIDIA GPUs are supported.
Download
Features:
Windows GUI
List of available GPUs for development
Monitor GPU temperature, fan speed and power consumption
The interface has a "simplified mining mod"
Support for older versions of NVIDIA graphics cards, including 3 GB cards, such as the GTX 1060
Extraction rates comparable to Claymore and PhoenixMiner
Support only stratum mining pools
Interface Instructions
Select your graphics processor from the list.
Enter your account in the address field
Specify the pool, port, password in the received text fields
Click the Play button to begin mining.
If you wish to use the Minimization Mining Mode by clicking the button to the right of the Play button
Command line arguments
If you prefer to use the command line, the following parameters and arguments are supported:
-h [--help] Print a help message
-s [--stratum] arg Stratum pool server server: port
-u [--user] arg Address.workername.password
-r [--retry] arg (= 100) Number of connection failure attempts
-d [--devices] arg Specifies the identifiers of the NVIDIA GPUs you want to use (for example, -d 02) -v [--version] Shows the build version
Example: Terracotta.exe -s us1.ethermine.org:4444-u 0xxxxxxxxxxxxxxxxxxxxxxx.worker11.x
In Windows, if you licked an error in the following: "The program cannot start because VCOMP140.DLL is not on your computer, you need to download MSVC 2015 x64 from
https://www.microsoft.com/en-us/download/details. Aspx? ID = 48145
Screenshot GUI interface miner attached below.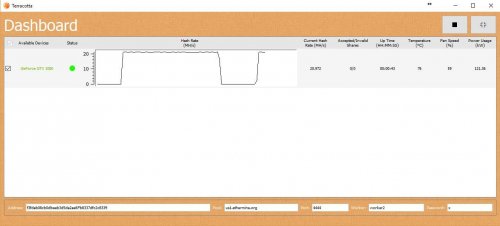 All subsequent updates and news will be published in this thread